< Vortrag (Thementag Logistik)
2012/06/18 09:00 Age 6 Years

On its way to Costa Rica
---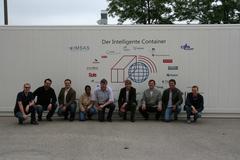 Our prototype container was shipped to Costa Rica on June 18th 2012 for the next field test. In July twenty pallets of green banana with wireless sensors will be loaded to the container. Online supervision will be provided by satellite communication during the transport back to Europe.

The container is equipped with the new MagnumPlus cooling unit. The MP4000 controller allows adjusting the temperature set point remotely. The unit was provided by Thermo King / Ingersoll Rand. In the future, the set point will be automatically corrected according to a prediction of shelf life and cooling performance calculated by the wireless sensor network.




MagnumPlus

The high water content of bananas hinders the communication of wireless sensors inside the container, as our last test in 2009 showed. In order to find the best solution to transmit sensor data, measured inside of pallets of fresh fruit, four different types of sensor networks were installed for the current test. Different network protocols, hardware and communication standards (2.4 GHz and RFID) will be tested.
Electronics of several partners of our consortium was integrated into the container by CHS Spezialcontainer, OHB and the team of the University of Bremen without losing any space of the cargo hold.
---